11 Benefits of In-Pack, On-Pack, and IRC Coupons
Ever wonder why manufacturers offer coupons? In-pack coupons, on-pack coupons, and instantly redeemable coupons (IRC's) give a manufacturer tremendous power:
1. PROVIDE A "HARD COPY" REMINDER
Would you rather memorize the details of a sale, brand, price, size, et cetera --OR-- have it all documented for you? The answer is obvious. People appreciate the concise, informative message a coupon provides, and that's why they bring it with them to the store. When they bring your coupon to the store, they are significantly more likely to buy your product and ignore any last-second messages from competitors.
2. PRODUCT PURCHASE
File this one under "duh!" Consumers like to save money, and they like value. Offer them an attractive incentive, they will accept. Coupons sell product.
3. INCREASE PURCHASES PER PERIOD
Coupons cause consumers to buy more than they otherwise would in a given time period, especially BOGO (buy one, get one) coupons. Don't assume BOGO has a strict definition; it has many variations ("buy three, get one free", "33% off when you buy three", etc).
4. EXTEND TYPICAL PURCHASING SEASON
If your sales usually occur in only a portion of the year, a coupon can extend the length of your selling season. Offer coupons early (to jumpstart the season) and late (to extend the season).
5. PRODUCT TRIAL
This tactic is ideal for a new product, but works just as well for established products. Apply an on-pack offer that encourages people to try your product for the first time. You can offer anything from an instant discount to a mail-in offer for a gift card or rebate. Encourage consumers to grab your product instead of the one next to it on the shelf.
6. ENCOURAGE MULTIPLE PURCHASES
An on-pack offer can encourage larger purchases ("save $1.00 when you buy 3"). In-pack offers can do the same on future purchases and generate repeat business, leading to loyal customers.
7. BEAT THE COMPETITION
On-pack offers scream to consumers at the point of purchase, drowning out allegiance to a competitor and the competitor's packaging. In-pack offers encourage consumers to commit to your product before they begin their shopping trip, which means they are less susceptible to last-second competitor offers.
8. MOTIVATE RETAIL ACTION
Coupon campaigns can help grease the wheels with retailers, leading to improved stocking, display, signage, and shelf positioning. Manufacturers who need to convince retailers to stock a product gain an advantage with an on-pack IRC coupon campaign.
9. OFFSET PRICE INCREASES
Need to cushion the shock of a price increase? Try coupons.
10. PUMP UP IMPULSE PURCHASES
An on-pack, instantly redeemable coupon offer is the best way to generate impulse purchases.
11. EASY CROSS PROMOTION
In-pack offers reach a terrific segment: your customer! Instead of a discount on the item in hand, consider offering an incentive on a product produced by anther business unit within your company. Or, offer a discount with a complimenting product (milk and cookies, chips and dip, etc).
Gallimore Industries prints in-pack and on-pack promotional items, including coupons. Gallimore also provides inserting equipment that can insert your promotional item. For a no-obligation estimate, please share details about your next project with us:
When you choose Gallimore, you gain access to our in-house prepress, multiple high speed web presses, folding, die cutting, wrapping, warehousing, and distribution departments. Gallimore's AIB (American Institute of Baking) certification ensures the insert materials we use are traceable and provides a clean environment. And our decades of experience will help you meet FDA and USDA regulations, avoid recalls, and produce reliable inserts best suited for your product.
Gallimore inserts are designed for 100% compatibility with Gallimore inserter equipment. Gallimore coupons are supplied in trays or bandolier-style for easy handling and loading in our various inserter models: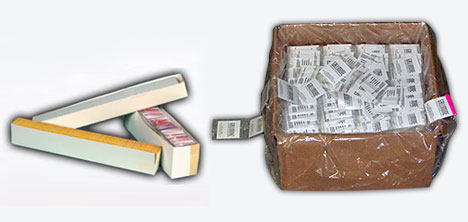 Gallimore's high speed web presses produce colorful promotions supplied in trays or bandoliers for easy handling and loading in our various inserter models.
Did You Know...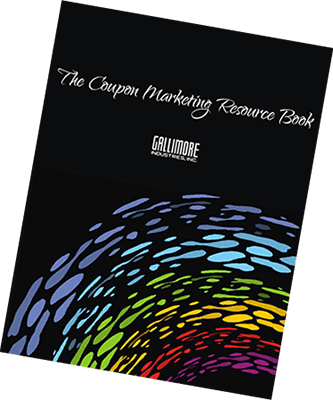 FREE eBOOK
The Coupon Marketing Resource Book
We'll give you our 24-page eBook packed with 17 of our most popular resources, including:
50 Coupon Campaign Ideas
Coupon Design Considerations
Coupon Copy Requirements
What Are On-Pack Coupons?
And Much More!