5 Facts About Coupon Marketing
1. Coupons are more influential than you know.
Studies show that coupons are second only to word-of-mouth when it come to influencing consumer purchasing decisions. Recommendations from trusted friends are influential, but many are surprised to learn that coupons carry a similar power. A coupon in hand can defeat many obstacles typically faced by marketers.
2. Coupon marketing is one of the only measurable forms of marketing.
Most advertising and marketing is impossible to accurately measure. But coupons can be easily tracked by redemption rate and redemption location, giving you valuable insight into your consumer and justifying your marketing budget. Advanced coupons can even gather consumer data (just ask them to fill in a few blanks, or submit a form online!).
3. Coupons get you "in".
Advertised promotions are quickly forgotten, but a coupon is carried by consumers in a purse or wallet to their store, with your name and photo all over it. They actually volunteer to carry your ad with them to the store! Doing so greatly reduces the risk of them forgetting your name and/or buying a competitor's product.
4. Coupons offer a one-to-one personal moment.
Unlike print ads, radio, TV, and most other forms of advertising, coupons offer a private, distraction-free communication moment. A coupon in a consumer's hand offers an opportunity to establish your brand, share detailed information, invite the reader to join a club or community, and much more (check out 50 coupon campaign ideas).
5. Coupons reach affluent consumers.
A recent study concluded that households with at least $100,000 annual income are roughly twice as likely to use coupons than people with lower incomes.
Gallimore Industries prints in-pack and on-pack promotional items, including coupons. Gallimore also provides coupon inserting equipment that can insert your promotional item. For a no-obligation estimate, please share details about your next project with us:
When you choose Gallimore, you gain access to our in-house prepress, multiple high speed web presses, folding, die cutting, wrapping, warehousing, and distribution departments. Gallimore's AIB (American Institute of Baking) certification ensures the insert materials we use are traceable and provides a clean environment. And our decades of experience will help you meet FDA and USDA regulations, avoid recalls, and produce reliable inserts best suited for your product.
Gallimore inserts are designed for 100% compatibility with Gallimore inserter equipment. Gallimore coupons are supplied in trays or bandolier-style for easy handling and loading in our various inserter models: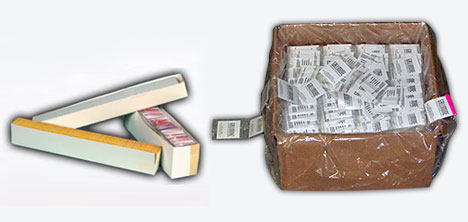 Gallimore's high speed web presses produce colorful promotions supplied in trays or bandoliers for easy handling and loading in our various inserter models.
Did You Know...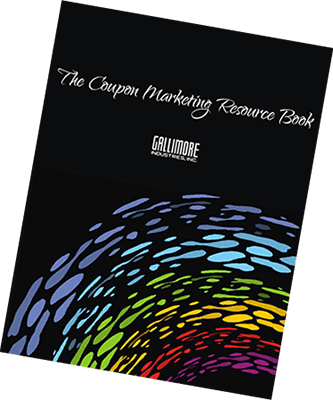 FREE eBOOK
The Coupon Marketing Resource Book
We'll give you our 24-page eBook packed with 17 of our most popular resources, including:
50 Coupon Campaign Ideas
Coupon Design Considerations
Coupon Copy Requirements
What Are On-Pack Coupons?
And Much More!